Why is a live seminar better than online classes?
Answers Aayla Shaman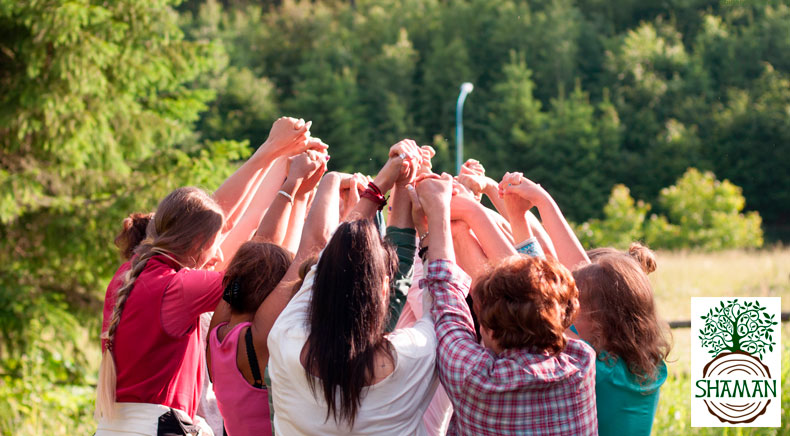 What questions do people come with to the shamanic seminars? Why are the solutions effective only during face-to-face meetings and not online?
Shamanic seminars yesterday and today
The preservation of traditions has always rested on the shoulders of the chosen ones. Shamans spent a long time choosing their future disciples and only a few become holders of the ancient sacred power. Every day they learned the secrets of the shaman's skills, learned to communicate with the spirits of the upper and lower worlds, under the guidance of a mentor they became healers of the soul and body.
Time passed and made changes in our lives. Students now come to the shamans from around the globe. Seminars and online classes have become part of the transmission of the ancient knowledge. How to determine which format is better and closer to the shamanic tradition?
The Internet allows you to remove boundaries. The question of the student and the word of the teacher travel thousands of kilometers in the flicker of a second. You can watch a training at any time, repeat the material — it's fast, easy and informative. Many of our students choose this option. And what are the advantages of a live seminar?
The magic of live communication that occurs between the student and the mentor is only possible in person and at the time of the collective rites. In this, online courses lose out to live classes. The unity of the sacred energy of the student and the teacher is an important part of the training and shamanic ritual practice.
What is the danger of online learning?
We keep up with the times, communicate by phone and Skype, meet at online conferences, share experiences and useful information in blogs. We are open to the world and communication with everyone who wants to become a part of our big shamanic family. 
But is it possible to get a real shamanic experience at home, sitting in front of the laptop? To feel the energy of the Place of Power, the experience of the shaman? It isn't. Moreover, if a person took advantage of some tips from the Internet, thoughtlessly downloaded the instructions on how to summon the spirits or trusted a swindler who pretended to be a shaman or spiritual mentor, it can be dangerous. 
Emma, Munich:
Since childhood I had an example of a strong and strict mother who built a successful career, raised me and my brother. My brother lived up to the expectations and became a successful lawyer, but I… 'Loser' — so my mother called me and said that I would never be able to achieve anything. All I got was my own little coffee shop on the outskirts of Munich, which brought me scanty income.

I visited a psychologist, took courses of personal growth, but could not overcome the uncertainty and get out of the circle of failures. On the Internet, I found a wiccan group where people shared rituals and incantations to attract success and happiness. I took a chance.

Following all the advice and recommendations, I performed several rites and offerings for spirits. I asked for success in business and personal affairs. But… nothing changed, life went on as usual. After a while, I forgot about the rituals. But…

First, my mother was fired from the position of Marketing Director. Then my brother started having problems, he had to reduce the staff of the company. Their successful career was in jeopardy. And me? I, on the contrary, everything was fine. The bank gave a loan to open a cafe for creative young people. I began to communicate with interesting people. My self-esteem was growing… But for my family, on the contrary, things were getting worse.

And only then I realized that there is something wrong! Too much of a coincidence. One of my new friends found out about my story and invited me to a seminar held by shaman Aayla. There I learned that because of my painful thirst to be successful and prove something to my family, I summoned the spirits of the lower world. They fed on my family's energy… Their failure was the price of my success. If it hadn't been for Aayla, I would have lost not only my family, but my business as well.

Aayla held a cleansing ritual and made amulets for mom and brother. During the trip to the Place of Power, I was able to completely cleanse myself energetically and learned to work with the energies of the other world. Fortunately, everything was fine. My mother went to work in another company, my brother won several high-profile cases and he had a lot of new customers. What about my second cafe? I opened it thanks to my mother and her marketing advice! Now I have plans to open a third one!

Why face-to-face seminars open hidden sacred powers in people?
A shamanic seminar is an opportunity to personally touch the secrets of nature and the Earth, to reveal the potential of the healer. Both teachers and students prepare for this event in advance. Much attention is paid to the venue, it should be filled with strong positive energy.
Activities of shamanic courses always cover a wide range of work: personal communication and counseling, interaction in groups, contact at the energy and spiritual levels. Your conversation with the teacher can take place not only in reality, but also in dreams, and in deep meditations. Live seminars have no analogues in terms of efficiency! This is a unique spiritual and practical experience!
Preparing a student requires deep awareness and personal presence. It is important to register for the seminar in advance. I recommend that my students do this three months before the scheduled event. In the meantime, the person prepares spiritually and physically for the classes, psychologically tunes in to mental work with the spirits and gaining new knowledge, and learns to accumulate energy. 
Unexpected problems at work, illnesses… All this can make you refuse to go to a live seminar. But you have to understand that this is a test before an important event. Spirits can help you to remove the obstacles and realize your plan if you make a material sacrifice in the form of a prepayment for booking a place at the seminar. 
What is included in this concept and what kind of energy does this monetary gift have? Investing money in self-development, seminars, training, purchase of books and courses, we enrich our soul and direct energy to the good. It is pure energy that attracts happiness and success to a person!
A shamanic seminar is the most important event in the life of a person who is committed to self-development and success. Standing in the same circle with the shaman, participating in sacred ceremonies, you can rethink your life and solve all your problems. Difficulties at work will remain in the past, diseases will recede, and all conflicts will be solved.
Don't wait for your life to start changing for the better itself. This may never happen. Start changing it now and come to our live seminars!